Coronavirus: The Origin Story
Cornoavirus was first identified in patients in the 1960s by Tyrrel and Byone1. Its pathogenicity was for the most part considered low, occasionally leading to acute upper respiratory infection in infants, young adults, the elderly and immune compromised patients.  Considering the high rate of mutation among RNA viruses, the number of animal coronaviruses, and the increasing mixing of animal species in densely populated areas spillover is not unexpected. In recent years, similar animal-to-human crossovers were observed with Nipha virus in Malaysia, Ebola and Marburg viruses in Africa.
Coronaviruses are a family taxonomically subdivided into alpha-, beta-, gamma- and delta-coronavirus and known to cause diseases in human and non-human animals. Prior to the identification of SARS-CoV-2, seven strains were known to cause mild to moderate respiratory infections similar to the common cold in humans: 29E, NL63, MERS and SARS and OC43, and KHU13.
Alphacoronavirus

Human Coronavirus species

229E, NL6 (alpha coronavirus) and OC43, HKU1 (non-SARS human beta coronavirus) common causes of human infections worldwide

Betacoronavirus

Non-SARS human species

MERS-CoV

Other human coronaviruses from animal spillover

SARS-CoV

SARS-CoV-2

Novel coronavirus that causes COVID-19

Gammacoronavirus

Primarily avian coronavirus (IBV)

Avian virus primarily affecting chickens; causative agent for infectious bronchitis virus (IBV)

Deltacoronavirus

Primarily avian; also detected in marine mammals

 Recently discovered avian (songbird) coronavirus
Human Coronavirus (HCoV) is a common causes of respiratory infection worldwide: CoV 229E and OC43 have a prevalence rate of 3-11% among hospitalized elderly patients4 and cause approximately 25% of colds similar to those caused by the rhinoviruses5. Severe Acute Respiratory Syndrome (SARS) coronavirus first reported in 2002 and Middle East Respiratory Syndrome (MERS) first reported in 2012 cause severe respiratory infections in humans. Both strains are zoonic pathogens suspected to have originated in bats. Coronaviruses that are highly pathogenic in humans are a 21st century phenomenon beginning with the emergence of SARS and MERS6.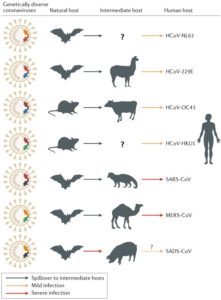 However, MERS-CoV  antibodies detected in camel serum samples dating from as far back as 1983 suggest it may have emerged decades before the 2012 outbreak7. SARS-CoV-2, the virus responsible for coronavirus-associated acute respiratory disease (COVID-19), is now the third documented animal-to-human coronavirus spillover. Phylogenetic analysis of SARS-COV-2 show it is closely related to the 2002 virus8.
To address the urgent need for access to effective and affordable SARS-CoV-2 R&D tools IBT Bioservices is developing a neutralization assay using the VSV pseudotyped virus system. Using Luciferase fluorescent signals it can be used to evaluate the neutralizing potency of candidates that target virus entry. The SARS-CoV-2 Spike Protein and Receptor Binding Domain proteins also will be available for purchase as research reagent. If you have questions about the products or services offered at IBT Bioservices CONTACT US. 
IBT Bioservices is a BSL2 pre-clinical CRO for infectious disease R&D. Our mission is to deliver high quality discovery tools and testing services to advance the fight against infectious diseases. Our offerings include proof-of-concept in vitro and in vivo research service for a range of viral and bacterial pathogens.