IBT Bioservices has conducted 100s of studies in rodent models, and has the experience to implement complex projects to evaluate antiviral efficacy and immunogenicity.  We offer our state-of-the art facility and broad range of readout to support your pre-clinical in vivo and in vitro projects.
Respiratory syncytial virus (RSV) is a leading cause of morbidity and mortality in vulnerable populations world-wide. According to CDC trends and surveillance data, in the U.S. alone RSV is responsible for over 2 million  cases of hospitalization and 177,000 deaths annually in children under the age of 5. It causes 14,000 deaths per year among patients over the age of 65. It is among the last of the major viruses for which we currently do not have safe and effective vaccines. We have developed the cotton rat RSV model to support R&D efforts.
COTTON RAT INFECTION MODEL
The cotton rat model is widely used for preclinical evaluation of vaccines, antiviral and antibodies against RSV. The cotton rat (Sigmodon hispidus) is susceptible to non-adapted human RSV and the resulting pathologies mirror human disease. Synagis® (F protein inhibitor monoclonal antibody) is one of only two market available treatments for RSV; it gained FDA approval for clinical testing based on Cotton rat efficacy data.
APPLICATIONS
Efficacy study (vaccine and therapeutics agents)
Disease pathogenesis
Synergistic efficacy
Dose range finding study
OPTIONS
Treatment administration route:  Intravenous, intramuscular, nebulizer
Reference and comparative controls: Synagis or other reference material; vehicle
Length/Endpoint: Five to seven days post infection
In vitro assays: virus load/plague immunoassays
Assays & Measurements:  Viral load in nasal tissue, bronchoalveolar fluid (BALF), lung homogenate; immunohistochemistry and tissue pathology

Our Cotton rat model has been validated using RSV strain A2. Animals are challenge via intranasal (IN) route. To demonstrate viral kinetics animals are infected with a range of plaque forming units (PFU) of the virus. The resulting viral titers in the lungs and BALF indicate Day 4 as peak of infection.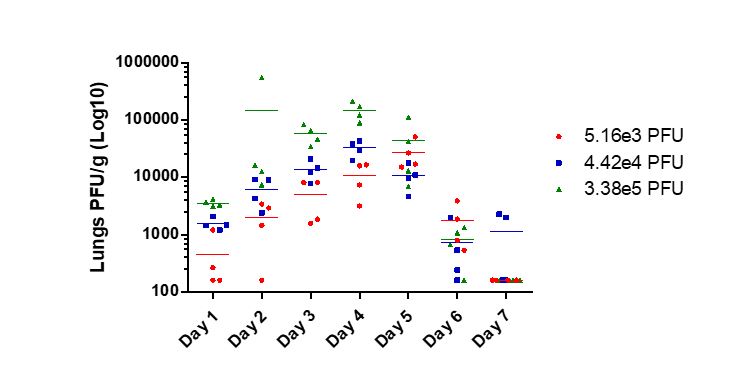 To demonstrate a test compound's synergistic efficacy, animals were challenged with 10e4 PFU of RSV and dosed with an anti-RSV antibody and Synagis. Viral titers in lungs were determined at Day 4 post-infection (peak viremia). Reduction in viral burden was observed in animals treated with the antiviral-RSV antibody + Synagis combination therapy.