Need Flow Cytometry Services?
IBT Bioservices provides comprehensive flow cytometry services to accelerate your R&D. Flow cytometry can yield rich data to provide insights into mechanism and increase preclinical success.  Our team of experts can help you with panel design, custom validation of fluorophores, develop antibody clones for your assays as well as analyze your data. At IBT we leverage our extensive scientific knowledge to accelerate your drug development process.
Custom flow cytometry
Assay development
Assay validation
Sample processing
Panel design and data analysis
We offer access to PhD level industry professionals and experts in the design and execution of flow cytometry studies. We are here to help you from start to finish. Contact us to discuss a potential project or to ask questions about our flow cytometry and other pre-clinical testing services.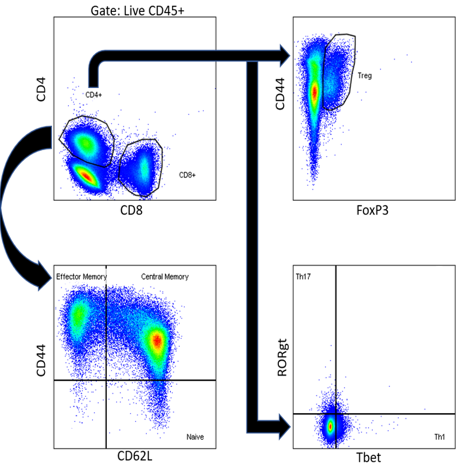 Ready-to-use validated panels available to characterize T-cell subsets and to assess T-lymphocyte antigen specific response.

Our flow cytometry studies are conducted on BD FACSymphony A3 Flow Cytometer
simultaneous collection of up to 23 colors
portfolio of bright dyes
technical data analysis support services
Range of flow cytometry assays including:
Immunophenotyping

CD8+ and CD4+ T-lymphocytes
B-lymphocytes

Immune checkpoint modulation evaluation:

T-helper (TH ) cell subset
T-lymphocytes antigen response
Intracellular cytokine response
Transcription factors

Functional assays to evaluate

relative abundance of immune cell subsets
mechanism of action
immune subset abundance
What we offer:
In-house in vivo services to generate samples
Rapid collection/processing to ensure sample quality
High quality studies performed by PhD level experts
Fast turnaround
Affordable service
Long term service contracts available
What's Included:
Technical data analysis support services
PDF report of scatter plots based on your gating strategy
Excel report with cell count
Raw data file
Formal Study report, upon request
IBT Bioservices provides full flow cytometry services (FACS services) from experimental design to specimen processing, acquisition, and data analysis for all stages of preclinical drug and vaccine development Contact us for a free no obligation consultation.