Combating Staph aureus superantigen toxins
Superantigen toxins : Of cytokine storms and immune short-circuits -how do we combat the ensuing system blackout ?
New research findings [1,2]  suggest that dangerous bacteria Staphylococcus aureus (S. aureus) are no longer able to interact and cause inflammation in target epithelial cells when CD40 specific molecules are genetically removed from these cells by CRISPR editing. These findings suggest immune activation and subsequent disease caused by S. aureus superantigen (SAgs) class of toxins may be prevented by blocking their interaction with human epithelial cells through CD40. It also points to the need for further research to investigate if other pathogens cause diseases through the same receptor interaction. Many other published reports by universities and industry alike are now focused on the role of superantigens in S. aureus disease, signifying a paradigm shift for R&D researcher looking to find ways to combat these toxins.
Superantigens cause massive cytokine storms and disrupt the host immune system
S. aureus is a resilient, gram-positive pathogen that causes several infections in humans, including skin infections, pneumonia, food poisoning, toxic shock syndrome, blood poisoning, and osteomyelitis. It uses a plethora of virulence factors to breach the host (human) defenses, including production of extracellular toxins to evade the human immune system and cause clinical disease. In contrast to conventional antigens that undergo proteolytic processing by antigen-presenting cells and are presented as major histocompatibility complex (MHC)/peptide complex to T cells (immune cells), SAgs cross-link T cell receptor (TCR) with MHC Class II and activate up to 30% of T cells. This then causes a massive release of cytokines and chemokines, which in turn leads to enhanced expression and activation of cell-adhesion molecules, increased T-cell proliferation, and eventually T-cell apoptosis or T cell anergy. SAg-mediated immune activation is likely to be responsible for some of the characteristic symptoms associated with infections with SAg-producing microbes, such as the toxic shock syndrome (TSS) and food poisoning caused by staphylococci. The immune "short-circuit" caused by SAgs also is implicated in the virulence of S. aureus where along with other toxins it can lead to pneumonia, infective endocarditis, neonatal exanthematous disease, sepsis, atopic dermatitis, and total system shutdown.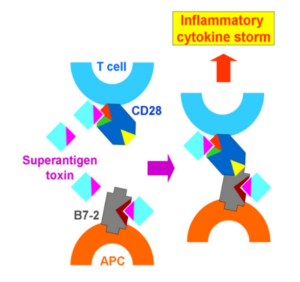 Many recent publications show promising progress to mounting a successful defense against SAg-associated disease [3] and for developing vaccines and therapeutics that will provide clinical protection against superantigen toxins [4]. The growing body of knowledge about superantigens such Staphylococcal enterotoxins (SE) – SEA, SEB, and Toxic shock syndrome toxin (TSST-1)  will be the key to advancing toward the development of rationally designed and successful attenuated antibacterial vaccines.
Related publications