Integrated Biotherapeutics, Inc. @ World Anti-Microbial Resistance Congress 2019
4 November 2019
INTEGRATED BIOTHERAPEUTICS TO PRESENT ON NOVEL VACCINES FOR MRSA AT WORLD ANTI-MICROBIAL CONGRESS 2019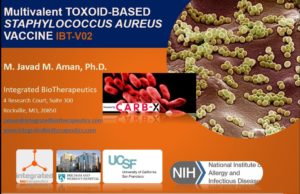 Integrated Biotherapeutics, Inc. @ World Anti-Microbial Resistance Congress 2019
AN INDUSTRY EXPERTS CONFERENCE ON COMBATING ANTI-MICROBIAL RESISTANCE
Maryland — 4 November 2019 – Integrated Biotherapeutics CEO Dr. M. Javad Aman will present on novel approaches for the development of novel toxoid-based vaccine for MRSA at the 2019 World Anti-Microbial Resistance Congress in Washington, DC.
Integrated Biotherapeutics be presenting Friday November 8:
ABOUT INTEGRATED BIOTHERAPEUTICS: IBT is a biotechnology company focused on the discovery of novel vaccines and therapies for emerging infectious diseases and promising product candidates for bacterial and viral infections. Located in Rockville, MD, IBT has a close working relationship with United States Government agencies, biotechnology and pharmaceutical companies and academic laboratories. Visit us at www.integratedbiotherapeutics.com.
Contact us to learn more about IBT or its research service section IBT Bioservices:  
Phone: (o) (240)778-6513  (c) (240-506-5871
Email: hshiferaw@integratedbiotherapeutics.com